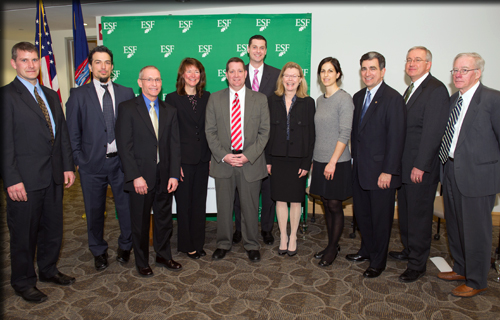 In an announcement made by State Assemblyman William Magnarelli, The Syracuse Center of Excellence and CenterState Corporation for Economic Opportunity, five New York Companies have received significant funding from the Commercialization Assistance Program (CAP). Totaling $248,000, the CAP awards are granted to promote the commercialization of innovative clean technologies.
The five winners of the CAP awards are
Ephesus Technologies
, a LED lighting design/manufacture company;
GreenView Energy Management Systems
, who implements turnkey, real-time, remotely monitored data acquisition services for energy commodities (electricity, natural-gas, water, generators, fuel-cells, solar and wind);
Rapic Cure Technologies
, a formulation and manufacture company of value added energy-curable resins, coatings, inks and adhesives;
Synairco
, who is commercializing a ultra-efficient, environmentally responsible air-conditioning system that uses solar or waste heat for cooling and dehumidification; and
Synex
, a developer of control products for steam, hydronic, and thermal fluid heat transfer systems.
We are proud to announce that Ephesus Technologies, GreenView Energy Managment Systems, Rapid Cure Technologies and Synairco are portfolio companies of the Cleantech Center!
For more information visit
http://www.esf.edu/communications/view.asp?newsID=1484
.